How to Create and Verify PayPal Account in Pakistan? (2022)
Hi Friends! Every Buddy is Searching in Pakistan How to Create and Verify PayPal Account in Pakistan. PayPal is officially not in Pakistan. But Today I Complete Guide You How You Can Create PayPal Account in Pakistan and How You Can Verify PayPal Account in Pakistan.
What is PayPal?
Before Starting I want to describe a short Description of PayPal. So PayPal is an Online Money-Saving Account Where You will Receive and Send Money Online. Mostly PayPal is used for Online Payments.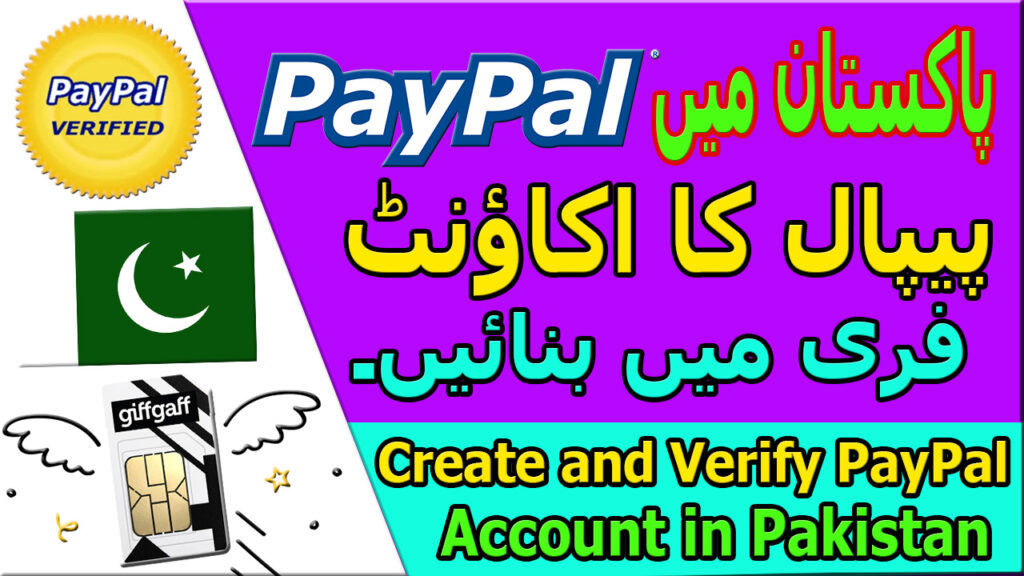 How to Create PayPal Account in Pakistan?
So Now I Am Explaining how you can create and Verify PayPal Account in Pakistan. It's a Legal and 100% working method. Using this method you can Easily Create and Verify PayPal Account in Pakistan.
What I Need to Do for Creating Free PayPal Account in Pakistan?
First, you need a Foreign Country Cell Phone Number where you can verify your PayPal account. Because the Phone number is the main thing for making PayPal Account. But I know you don't have any Foreign phone Numbers. So don't worry I Have Complete
Solution for you.
How to Get Free SIM Number for PayPal Verification in Pakistan?
I have a Solution about the phone number. So you need to go on a Website Called GiffGaff.com. This Website is Proving you with a Free UK SIM. Don't worry about security because I Personally use it.
So go on the Website then click the Button Order Your Free SIM. Then New Page is Open Here Click on No thanks, I just want a free SIM. After that, a form is opened. Now Fill All the Information Correctly Full Name, Email, Address, City, Postcode and all. Fill this correctly because they Send You UK SIM at Your Address for Free. After Filling out the Form Click on Order Your Free SIM Button.
How to Use Free UK SIM Number for PayPal Verification in Pakistan?
When GiffGaff UK SIM is arrived put it in Your Cell Phone. Giffgaff SIM is Using Mobilink Jazz, Ufone, and Other Networks Services. Turn on Your Phone go to Mobile Setting then Find Mobile Networks Setting.
In Mobile, Networks find Network Operators then in Networks Operators Click on Search networks. After Clicking on Search Networks Your Mobile Search All Networks Services Like Mobilink or Ufone.
Now when Searching is Complete All Networks are showing on Screen. You need to Select any Network Service that you want to Like (Mobilink Jazz) so click anyone. If You Click on Mobilink Jazz Service so you use this Giffgaff SIM as a Mobilink Jazz SIM. If you want to know what is Giffgaff SIM Number you will use Mobilink sim codes like (for checking what is sim number you dial *99#).
Create and Verify PayPal Account in Pakistan!
Let's go Now You Have a Foreign SIM number. Are you ready to create a PayPal Account in Pakistan? But Here is another thing you need a Vpn for Creating an Account because PayPal is not allowed in Pakistan so you need to use Any Vpn.
You can use Chrome Browser and in Chrome Browser you will install any Free Vpn Extension from Chrome Web Store. After installing Vpn Connect Vpn on UK proxy because we have UK Giffgaff SIM.
After Connecting Vpn Go to PayPal Official Website. Click to Create PayPal Account or Register PayPal Account. Select Personal Account. Fill in All the Information and write your Giffgaff UK SIM Number. Now Submit PayPal Register Form click to Create or Register Button. After, that you will receive a PayPal OTP (Code), now write this code on PayPal Website.
Yahooo PayPal Account is ready in Pakistan. Now PayPal is Available in Pakistan for
You.
If you want any Help just leave a comment.
Enjoy
Other Posts:
1. Make Money Online as a Graphic Designer: How to Become a Graphic Designer

2. Best New Online Earning App 2022

3. Make Money as a Freelancer | How to Become a Freelancer

4. How to Grow YouTube Channel in 2022?
5. How to Run Blender 2.8 Without Graphics Card

6. Home Based Business ideas – Earn Extra Income with Your Own Business (2022)