As a digital marketer, you understand the importance of staying on the cutting edge of new social media platforms and technologies. Snapchat is one of the fastest-growing social networks, especially among younger demographics like Generation Z. With over 3 billion snaps created each day, Snapchat offers a unique way for brands to connect with their audiences through fun filters, lenses, stories, and more. However, the platform does require a learning curve to leverage it effectively for marketing purposes.
Simplilearn, a leading online education provider, offers a free Snapchat Marketing course to help you master the basics. In this course, you'll learn how to create an account, build your profile, post stories and snaps, use lenses and filters, gain new followers, and ultimately promote your brand on Snapchat. With short video lessons and hands-on projects, you'll be creating fun and engaging content for your followers in no time. Staying on the cutting edge of social media marketing is essential, and this course provides an easy way to add Snapchat to your digital marketing toolkit.
Understanding Snapchat
To effectively market your brand on Snapchat, you must first understand how the platform works. Snapchat is a popular social media app that allows users to send photo and video messages, called Snaps, that disappear after viewing?
Snaps can be enhanced in several ways:
Drawings and text can be added using a variety of colors and fonts.
Geofilters and stickers provide location-based filters and emoji to decorate Snaps.
Lenses or filters alter your appearance or the environment. Popular lenses include the dog filter and rainbow vomit.
Snapchats' ephemeral nature encourages users to share more authentic moments in their day. However, Stories compile Snaps together to create a narrative that lasts 24 hours. Stories are an opportunity to share highlights or promote your brand in a casual way.
Building your follower base, or friends, is key. Engage with your followers by sending them Snaps or adding their Snaps to your Story. You can also curate Snaps from followers featuring your brand. Reposting user-generated content shows you value your followers and boosts account popularity.
Take time to explore the app and understand current trends to keep content fresh. With regular use and by providing value to followers, you can build a loyal community on Snapchat. Stay up to date with changes to leverage new features that may benefit your marketing strategy.
With the ephemeral and visual nature of Snapchat, brands have an opportunity to showcase their personality and connect with followers in an authentic way. By understanding the platform and its features, you can develop a creative Snapchat marketing campaign to raise brand awareness and engage your target audience.
What you will learn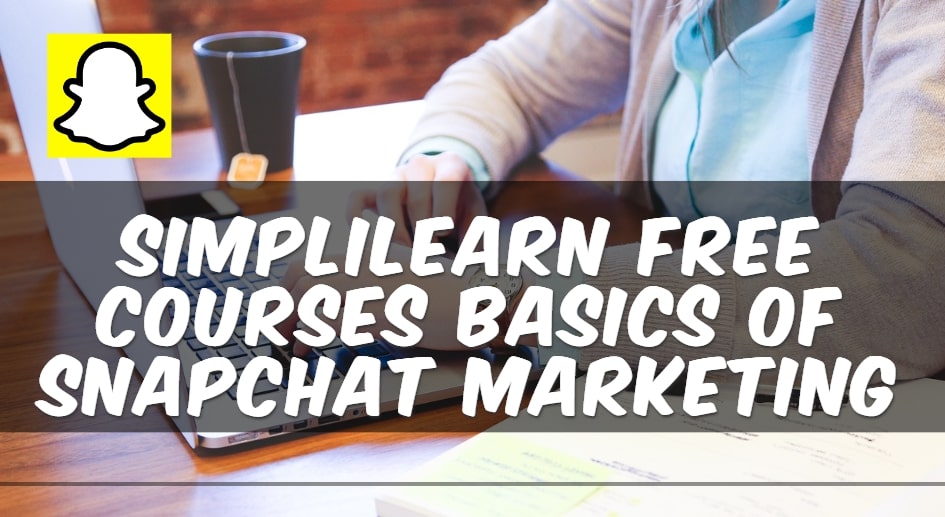 The Snapchat Marketing Course will teach you:
This course provides an overview of how to leverage Snapchat for your marketing campaigns. You will learn the fundamentals of Snapchat marketing, including:
The different types of Snapchat ads, such as Snap Ads, Sponsored Geofilters, Sponsored Lenses, and Story Ads. We will explore how to use each ad format effectively based on your goals and target audience.
Techniques for creating engaging Snapchat content, including posts, stories, lenses, and filters will capture your audience's attention. You will gain an understanding of Snapchats unique features and how to produce creative content tailored to the platform.
Methods for measuring the results of your Snapchat marketing efforts. We will discuss how to track impressions, completions, swipe-ups, and conversions to determine the success of your campaigns. You will learn how to optimize your content and ads based on performance data.
Strategies for growing your following and increasing engagement on Snapchat. We will explore ways to build your brand's visibility, connect with your target audience, and keep users coming back to your profile.
Tips for collaborating with influencers on Snapchat. We will examine how to find influencers, negotiate deals, and execute successful influencer marketing campaigns on Snapchat.
By the end of this course, you will have a solid foundation in Snapchat marketing and be equipped with the skills to launch your own campaigns. Enroll today to get started with this popular social platform.
Who should take this course?
Business Owners and Marketers
This Simplilearn free Snapchat marketing course is ideal for business owners and marketers looking to reach younger audiences. Snapchat's core demographic is 18 to 34-year-olds, making it an essential platform for brands targeting Millennials and Generation Z. By learning the basics of Snapchat marketing, you can:
Build brand awareness and connect with new potential customers.
Drive traffic to your website or online store.
Increase sales and conversions.
Students and Entry-Level Marketers
For students studying marketing, communication, or a related field, this course provides an introduction to Snapchat and its possibilities for brands. By understanding Snapchat marketing fundamentals, you can:
Gain valuable skills and experience for your resume.
Stay up-to-date with the latest social media marketing trends.
Get ahead of the curve by learning a platform with huge potential for the future.
Anyone Looking to Learn New Skills
This course is also ideal for anyone looking to pick up new skills and expand their knowledge. In today's digital world, social media marketing abilities are highly valued across many industries. By taking this free Snapchat marketing course, you can:
Develop a useful and transferable skill that applies to many jobs.
Stay up-to-date with changes in technology and social media.
Pursue a new interest or hobby in your spare time.
In summary, this course is suitable for a wide range of individuals, from business owners and marketers to students, entry-level professionals, and lifelong learners. By understanding the power of Snapchat marketing, you can reach new audiences, increase brand awareness, drive sales, gain valuable experience, and develop skills that will benefit you for years to come.
Creating Engaging Snapchat Content
To create engaging content on Snapchat, you must first understand your audience and the platform. Snapchat is a visual messaging app popular with younger generations, especially those under 25 years old. Content that resonates with this demographic includes:
Behind-the-scenes footage. Snapchat users appreciate authenticity and insider access. Share casual short videos of your team at work, your office space, or your product being created.
Event coverage. If hosting or attending an event, share short clips and photos of speakers, activities, attendees, or anything interesting happening. Give followers a glimpse into the experience.
Interactive content. Pose questions, run polls, share AR lenses and filters, and encourage followers to submit their own snaps. Engaging your audience will increase their time spent viewing your story.
Coupons and promo codes. Snapchat is an ideal platform to share time-sensitive deals and discounts with your followers. But keep the offers relevant and spaced out to avoid annoyance.
User-generated content. Repost snaps submitted by your followers. This shows you value their contributions and participation. Be sure to ask for consent before reposting anything.
Keeping your content lighthearted, authentic, and interactive is key. Avoid overly promotional messages which can seem disingenuous. With regular posting and community engagement, you'll build a loyal following and become a trusted brand on Snapchat. Consistency and quality are vital, so take time to plan out content ideas, a posting schedule, and any tools needed to create professional yet casual snaps. With the right approach, Snapchat can be an invaluable marketing channel for your business.
Building Your Snapchat Audience
To build your Snapchat audience, focus on creating content that provides value to your followers and encourages engagement.
Post Daily Stories
Posting Snapchat Stories daily is key to building your audience. Share behind-the-scenes footage of your business, events you're attending, your hobbies, or your daily routine. Giving followers a glimpse into your day-to-day life helps them get to know you and stay engaged with your account.
Engage with Your Followers
Respond to any messages or comments you receive from your followers. Ask them questions in your Stories and be sure to read through any responses. Engaging with your followers makes them feel like a part of your community and gives them an incentive to keep watching your Stories.
Collaborate with Other Users
Collaborating with other users is an easy way to reach new potential followers. Ask other users in your industry or niche if they'd be interested in taking over your Story for a day or doing a Story swap. Cross-promoting to each other's audiences exposes you to new followers who are already interested in your content.
Use Snapchat Ads and Lenses
Once you've built up an initial audience, you can boost your following using Snapchat Ads and sponsored Lenses. Snapchat Ads allow you to promote your account to new users who match your target audience. Sponsored Lenses are interactive filters you can create for your followers to use, which also promote your account to new users.
Building your Snapchat audience requires consistency, engagement, collaboration, and occasionally paid promotion. Post quality content daily, interact with your followers, work with other users, and use Snapchat Ads and Lenses to put your account in front of new potential followers. With time and effort, you'll gain a loyal audience and become an influencer on the platform.
Snapchat Ads and Analytics
Snapchat Ads
Snapchat offers advertising opportunities through Snap Ads, Sponsored Geofilters, Sponsored Lenses, and Story Ads. As a marketer, you have the ability to create full-screen vertical video ads, interactive lenses and filters, and ads within Stories.
Snap Ads
Snap Ads are full-screen, vertical video ads that appear between Stories and Shows in the Discover section of Snapchat. You can choose between Commercials (up to 3 minutes), Short Form Commercials (up to 60 seconds), and Snap Ads (up to 10 seconds). Snap Ads are a great way to drive brand awareness and engage Snapchat's audience with immersive sight, sound and motion.
Sponsored Lenses and Geofilters
Sponsored Lenses and Geofilters allow you to sponsor augmented reality lenses, filters and stickers on Snapchat. Users can access your lens or filter and then send Snaps to their friends using the experience. This type of interactive ad helps to boost brand engagement and word-of-mouth marketing.
Story Ads
Story Ads appear within the Stories section of the Snapchat app, in between friends' Stories. They are vertical video ads of up to 3 seconds that drive traffic to your website or app install page. Story Ads are a useful tool for driving action and conversions with Snapchat's audience in an authentic way.
Analytics
Snapchat offers analytics and insights to help optimize your ad campaigns. You can view metrics like impressions, swipe-ups, shares, and more to see how people are engaging with your ads. You can then make changes to improve performance, such as adjusting your targeting or creativity. Snapchat's analytics tools provide the data needed to build effective marketing campaigns on the platform.
In summary, Snapchat offers diverse advertising options like Snap Ads, Sponsored Lenses, Geofilters, and Story Ads. By leveraging these ad formats and the analytics provided, you can run impactful marketing campaigns, raise brand awareness, drive traffic, increase conversions, and better understand your audience on Snapchat.
Simplilearn Free Courses Basics of Snapchat Marketing
Simplilearn offers a free course on the basics of Snapchat marketing to help you get started. Snapchat is a popular social media platform, especially with younger generations, and learning how to leverage it for your business or brand can open up new opportunities to connect with potential customers.
Build Your Profile
The first step is to create a business profile on Snapchat. Add details like your company name, logo, website and a short bio describing what you do. Choose a memorable username that matches your brand. Post an introductory story to announce your new profile.
Create Engaging Content
Snapchat is all about sharing quick, fun content? Post a mix of photos, short videos, filters, lenses, and stickers. Show behind-the-scenes footage of your business, spotlight your products or services, share discounts and deals, or simply engage your followers with amusing content. Keep things lighthearted and authentic.
Use Snapchat Features
Take advantage of Snapchat's features to make your content more dynamic. Apply filters, lenses, or stickers to your snaps. Use the drawing tool to highlight parts of an image or add text. Upload longer videos as stories that disappear after 24 hours. Geofilters allow you to create location-based filters for your business that people can apply when they're at your location.
Promote Your Account
Promote your new Snapchat account on your other social media profiles and website. Offer incentives for people to follow you, such as exclusive deals, sneak peeks or contests. Collaborate with social media influencers in your industry to increase your visibility. Run a Snapchat takeover where an influencer posts content on your account for a day. Engage with your followers by replying to their messages and comments.
Analyze Your Results
Check your Snapchat analytics to see how your account is performing and what's resonating with your followers. See how many views your stories and snaps are getting, your follower growth, and your most popular and engaging content. Make changes to improve your results over time. With regular use and optimization, Snapchat can become an important part of your social media marketing strategy.
Here You Can Visit The Platform To Learn:
Simplilearn Free Courses Basics Of Snapchat Marketing
Also, You Can Visit SnapChat Site to Learn More:
FAQ: Everything You Need to Know About Snapchat Marketing
What is Snapchat marketing?
Snapchat marketing refers to promoting your business on Snapchat, a popular social media platform centered around sharing photo and video content. Brands use Snapchat to increase brand awareness, drive traffic to their website or app, and boost sales and conversions.
Why should my business use Snapchat marketing?
Snapchat has over 200 million daily active users, many of whom are millennials and Gen Z. By establishing a presence on Snapchat, you can connect with these younger audiences and build brand loyalty early on. Snapchat also has a variety of ad formats to help you achieve your marketing goals, whether that is increasing brand awareness, driving traffic, or boosting sales.
How do I get started with Snapchat marketing?
Create a business profile. Convert your personal Snapchat account to a business profile or create a new business account. Add details like your business name, website, and location.
Build your following. Post a variety of content like behind-the-scenes photos, event coverage, product teasers, and promo codes to engage your followers. You can also run Snapchat ads to increase your following.
Run Snapchat ads. Snapchat offers Snap Ads, Filters, Lenses, and Story Ads. These ad formats allow you to promote your account, website, app, products, and more to Snapchat users. You only pay when users engage with your ad.
Analyze your results. Use Snapchat's analytics to see impressions, reach, swipe ups, and conversions for your account and any ads you run. Track what is working and make changes to improve your Snapchat marketing strategy over time.
Stay active and engage with your followers. Continue posting regularly, respond to messages and comments, and like or reply to followers who tag your account. Engagement is key to success on Snapchat.
In summary, Snapchat marketing allows you to connect with younger audiences, increase brand awareness, drive traffic, and boost sales. By creating an account, building your following, running Snapchat ads, analyzing your metrics, and staying active in the community, you can establish a presence on this popular social platform.
Conclusion
As you have seen, Snapchat marketing is an exciting new frontier with many opportunities if you invest the time to understand this platform and build an engaged following. Simplilearn's free Snapchat marketing course provides an excellent starting point to grasp the basics and start planning an effective Snapchat marketing strategy for your business.
With practice and consistency, you will be creating fun and shareable content, collaborating with influencers, analyzing your metrics, and optimizing your approach in no time. Snapchat marketing is for the bold, the creative, and the forward-thinking. Take advantage of this popular channel while competition remains relatively low. The future of social media marketing is here – are you ready to snap into action?
More Posts:
1. Why Digital Marketing is Important for Small Businesses
2. Best Social Media Management Tools Comparison in Detailed
3. Best Email Marketing Software for Ecommerce Stores
4. How To Start A Social Media Marketing Agency
5. How to Do Affiliate Marketing Without Followers
6. Free Online Digital Marketing Courses with Certificates by Google